A Message from the KSAR President
| A Message from the KSAR President
Home > KSAR > A Message from the KSAR President
A Message from the KSAR President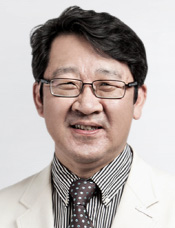 Dear Respected KSAR Members,
It is my great honor and pleasure to take the position of the president of the Korean Society of Abdominal Radiology (KSAR). I specially thank all members of the KSAR and all the people who are interested in our society. Furthermore, I extend my deepest gratitude to the previous presidents and the sponsor companies of the KSAR.

The KSAR has contributed a lot to the medical development of Korea in the field of radiology research, education, and medical care for 39 years since its establishment in 1983 with the aim of contributing to the development of abdominal radiology by promoting academic advancement of members and mutual friendship among members through academic activities.

The KSAR conducts various domestic academic events every year, including the 'Scientific Assembly of the Korean Society of Abdominal Radiology', monthly meetings, imaging conferences, and symposiums conducted with companies. As an international academic event, the Asian Abdominal Imaging Society (ACAR) was successfully hosted in Seoul and Busan in 2009 and 2017, respectively, and the 'Gerbet Korea-France Symposium', which began in 2013, was held every other year in 2015 (Paris), 2017 (Seoul), and 2019 (Paris). It has also published five books of case collections and a textbook called "Abdominal Radiology," that the fourth edition was published in 2020. Since 2017, the ¡®Korean Journal of Abdominal Radiology¡¯, the official journal of the KSAR, has published. Thanks to the efforts of the past chairmen and members, the KSAR has made a lot of progress.

COVID 19 led to the cancelation of many academic programs and the postponement of the 'Scientific Assembly of the Korean Society of Abdominal Radiology', causing difficulties in academic management and inconvenience to members. However, the progression of academic programs has been normalized.

We will work together with the newly formed board of directors to overcome the current crisis and to succeed and develop the projects that the previous chairmen have pursued so far. We will come up with ways for more members to participate in the monthly meeting and add an online format to make it easier for them to access it. We will further develop domestic and international academic conferences, and encourage members to conduct research activities through research funding.

We will always listen to what the members want.

We ask for your attention and encouragement, and wish you good health and happiness.
June 1, 2022
President, Korean Society of Abdominal Radiology
Dongil Choi, M.D.