A Message from the KSAR President
| A Message from the KSAR President
Home > KSAR > A Message from the KSAR President
A Message from the KSAR President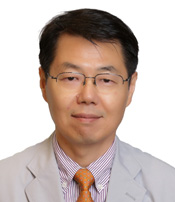 Dear Respected KSAR Members,
It is a great privilege for me to be inaugurated as the president of the Korean Society of Abdominal Radiology, through which knowledgeable KSAR members keeping abreast of global standards gather every June, the season of fresh green leaves. I fully realize the responsibilities of this role entrusted with the important and rigorous mission. I am grateful for the appraisal of all members of the KSAR and for where I am now. I would like to express my deepest appreciation and respect to our former presidents and members of the board of directors for their dedication on behalf of all KSAR members. I also would like express my gratitude to respectful senior members giving unwavering support and contributions.
The footprints of seniors will pave the way for our new successors. I would like to encourage our junior members to take the lead in advancing our Society to the top-tier level along with the support of predecessors. While I am taking the responsibilities as the president, I aim to accomplish the following two goals. First, I would like to create an environment where all KSAR members could socialize in harmony. There is an old Chinese proverb, ¡°A paved mountain road will change into a dense forest if not frequently used.¡± This relates to the flexible thinking and generous behavior of the Society members with a bond of sympathy and an ideal communicative environment. I would like to demonstrate that cooperation is all the more important rather than competition among members. I will make sure that our opportunities for taking leaps forward will not be hampered by conflicts and cynicism in our Society.
Next, I would like to mention the dynamic ¡°young active radiologists,¡± the growth engine for the future of our Society. Recently, a TV program called ¡°I am a singer¡± has become popular. Korea¡¯s leading singers are movingly inspiring us with soulful singling ability. It must be because they are the most prominent singers in their field. Likewise, our Society aims to proactively support young and talented radiologists who will lead the world as "leading specialists." We will make every possible effort in various ways to foster the world¡¯s leading young radiologists fully equipped with knowledge and creativity by using remarkable new members as a lever.
Distinguished members,
Today¡¯s international societies are regarded as an organization of cooperation interacting as an amalgamated sum to draw the advancement of new academic fields and technologies demanded by a new era. Let us put our utmost efforts to establish personal, material, systematic and cultural infrastructures in order to advance to one of the top-tier societies meeting global standards in the near future. These goals will not be achieved without devotion. I will first take the lead in playing a role in accomplishing tasks given by each committee. Let us build up mutual trust among members by transforming thoughts into actions one by one. Let us work with positive energy every morning. I will personally inspect policy implementation in the actual field and take extensive opinions from all walks of life as time permits. Next year marks the 30th anniversary of the foundation of the KSAR. Please feel free to visit me to discuss any hardships or difficulties, and let us do our best to make our Society pleasant, promising, and full of hope. I hope all of you will give continuous interest and support.
President of Korean Society of Abdominal Radiology
Myeong-Jin Kim